UPCOMING WEBINARS
See left column link for more info on how the webinars work
Sunday, June 3, noon to 2 pm
(San Francisco time)
(timezone converter - must uncheck Use Current Time!)

Treasures of African Women, II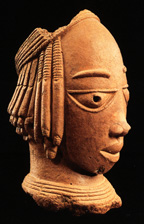 The greatness they denied, but you always knew existed. Classic Nok and other ceramics of ancient Nigeria, stone sculptures of Esie and the magnificent Benin bronzes. Yoruba, Hausa and Ashanti queens; priestesses and women's rites; ancestral mothers of Mali, Congo and Tanzania. Female artists in velvet, leather, mudcloth, weaving, calabashes, and muralists from Burkina Faso to Botswana. Women builders, lyre-players, rain-shrine oracles -- and modern women who resist unjust laws, patriarchal violence, and stand up for their rights and their most ancient cultural traditions.
$15. donation. Reparations discount for African/Diaspora people, donation of any size, suggested $7. After payment you'll be sent a URL to sign yourself up, then a final URL to use on the day/time of webcast. (Smart to log in 10 minutes early.)

You can pay by credit card, without being a member of Paypal. Just look down to the credit card logos and click where it says Continue, Make sure to enter your amount!

IMPORTANT: minimal System Requirements
PC: Windows® 7, Vista, XP or 2003 Server
Macintosh: OS® X 10.5 or newer
DSL recommended (dialup loads slowly)

---
This is the last webcast till September 2012
Vote your preferences for future webcasts!
(What topics, times, etc.)

---
~ Support the Suppressed Histories Archives ~

---
Coming in October: online course
Woman Shaman
If you prefer to pay by check, it must arrive at least four days before the webcast. Send to Max Dashu, PO Box 3511, Oakland CA 94609 USA. You must include your name, email and which session/s you'll be attending. Your email, and of course a net connection, is necessary for webcast participation. See above for minimum System Requirements for the software to work. (You don't have to download anything, it goes through Gotowebinar server.)